Nsi Balance UV Gel Professional Kit
---
Nsi Balance UV Gel Professional Kit
£130.00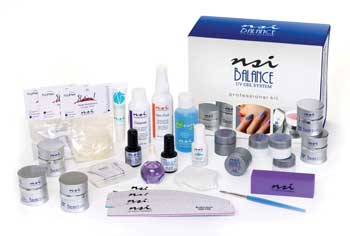 Balance UV Gel Professional Kit
A comprehensive kit containing all the products and detailed instructions to get you started in this versatile, easy to use, durable, odourless nail enhancement system.
Kit contains:
Builder Clear 15g, Builder Blush 15g, Body Builder Cover Pink Warm 15g, Body Builder French Pink 15g, Finish Clear 15g, Radiant White Sculptor 7g, Body Builder Soft White 7g, Brush on French White 7g, Sangria 7g, Rainbow Sparkle 7g, Glaze 'n' Go 7ml, Balance Bond Primer 7ml, Cleanse 2oz, Nail Pure Plus 2oz, Polybond Adhesive 1/4oz, Sani-Pure 2oz, #5 Touch Tip Kolinsky Brush, Elation Tips Clear, Natural and White 50ct, Clear UV Gel Forms 30ct, Nurture Oil 15ml, Vanish Cuticle Dissolve 15ml, Endurance 180, 150 and 100 Grit Files, Endurance 180/240 Grit Buffer, Lavendar Block Buffer, Nail Wipes 10ct, Beyond Basics DVD, Instructions and Cautions.
*Please Note: Kit contents are subject to change
Call Us 01664567575
All orders are Delivered within 14 days.
Please call the training school if you need any information on 01664567575